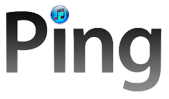 I have spent a day with Apple iTunes 10 new feature called Ping, a social network. The day of the announcement and before it was available for download there was a lot of speculation about what experience it might offer to music fans. It seems to be only a slight improvement on the iTunes Music Store review and ratings system. You need to download iTunes 10 from here, since as of yesterday (9/1/2010) iTunes 9.2.1 was not showing there was a new version in the Check for Update menu. But it may be working now.
Ping is a social network built into the iTunes Music Store. If you have an iTunes account you can have a Ping account. People enter their real name. You can follow other users, and user can follow you as are the functions of Twitter, unlike a reciprocal friend-type system in Facebook. You can follow me on Ping here.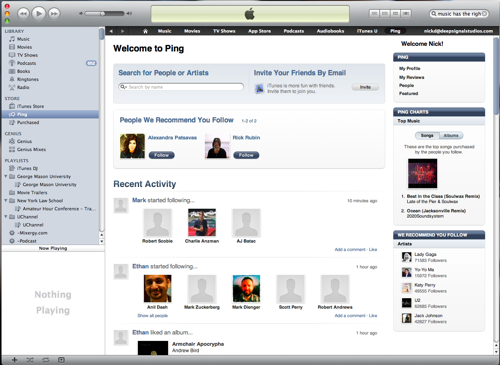 You can opt to have people not follow you or make them get your permission before they can follow you. At launched there were a dozen or so artists profiles from bands like U2, Coldplay, Jack Johnson, Lady Gaga, Katy Perry, and Rick Ruben along with tastemakers like KCRW dj Jason Bentley and music supervisor Alexandra Patsavas.


For your profile photo Ping automatically pulls your existing photo form your iChat profile if you have one, or will allow you take a new photo from your webcam similar to Photo Booth, or just upload a new photo.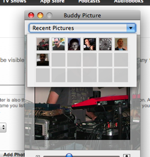 On the night of the launch 9/1/2010 photos where taking a long time to appear. I am not sure if they needed to be approved manually or if the servers were having a problem keeping up. You can write a bio about yourself, but links are not clickable.
You can feature up to 10 tracks on your profile. They are represented as album covers in the upper right corner of your profile.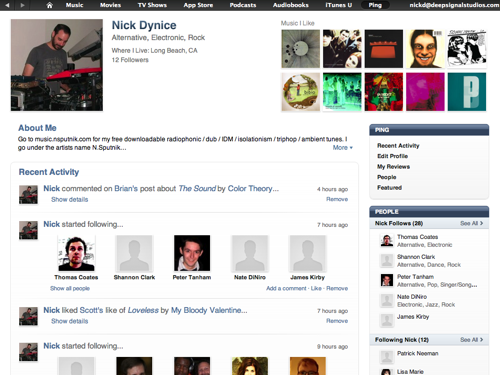 When a user clicks on an album cover it launches a preview player containing all of the songs on that album. This means you can only feature songs that exist in iTMS. I buy a lot of songs on Amazon MP3, Bleep, and Boomkat and use iTunes as a last resort.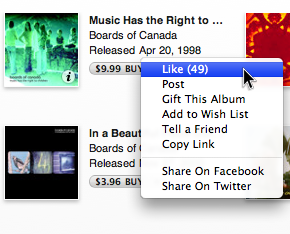 The key means of interacting with friends in the social media sense in Ping is to go to the iTunes Music Store (iTMS), find an album or track you like, and then "like" or "post" them by clicking on the black triangle button next to an album or track's buy button, or buy an album or track. These actions show up in your profile and the public timeline of your followers. When you like an album or track, it simply states this in your timeline and shows a buy link, along with the ability for others to like or post your like or post (yes, so meta).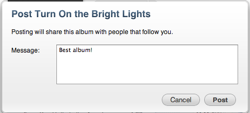 In a Post you can add a bit of text that will appear with the link to a track or album. Along with like and post you can gift it to a friend, add to your wishlist, tell a friend, copy the link for use on the web, and share on Facebook or Twitter. Of these actions only post and like will be shown to your followers. You can also like your own posts and post other users or artists posts and likes, even if you don't follow them or they don't follow you.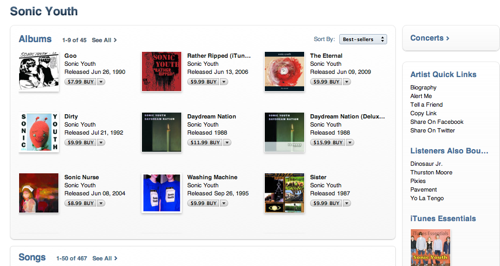 On artist pages in the iTMS some artists have a Concerts directory which will tell you about the concerts near you (probably based on your account info) and all other concerts by this artists and let you declare that you are going to a particular concert (a feature in Last.fm, MySpace, and iLike) and a "Find Tickets" link that opens to the Ticketmaster page on your default web browser. Declaring you will go will be displayed to your followers.



You can comment on or like that a friend or any other user has added new friends. You can comment on posts by artists you do not follow.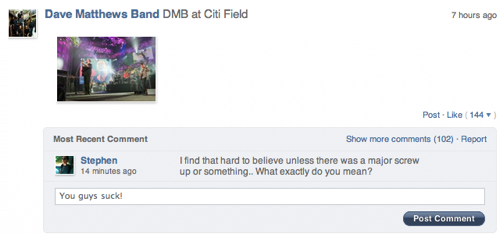 For Podcasts, Audiobooks, the App Store, TV Shows, Movies, and iTunes U you can share on Facebook and Twitter, gift, tell a friend, and add to your wishlist but you cannot post or like. At one point on the night of the launch there was a Facebook connect button. When clicked, it prompted me to enter my Facebook username and password and it seemed to connect but it failed to bring in my friends. It was revealed by Steve Jobs that this function was not working because Apple did not agree to Facebook's terms. Since then the Facebook connect button has been removed. It turns out Ping was Being blocked by Facebook.


There is a lot of speculation as to whether Ping is a MySpace killer or a Last.fm killer. It is neither. For now Apple decides which artists they want to feature with a Ping artists profile. On MySpace and Last.fm, Bandcamp, etc any artists can feature their own music on their profile. Artists can still promote their music if it is in the iTMS with a regular Ping user account. The only difference is the absence of a Like and Post button on the artist profile. I don't know if this will mean a spike in TuneCore accounts for artists to get their music on iTunes (update 9/16/2010 TuneCore announces Ping artist account integration). There were reports that Apple was going to extend song previews to 60 seconds, but the music publishers did not yet grant permission. Meanwhile you can hear entire songs at MySpace and watch music videos on YouTube for free. You can use Blip.fm to post an entire track streaming on your timeline. Unlike Last.fm's core function, Ping does nothing with the songs that you play in iTunes.
No music that has not been released yet is ever going to break on Ping.
If no new features are added to Ping in the next month I think it will be like the next Google Buzz. It is a techno-distraction and not necessary when people are already accustomed to sharing things in other ways. I think the best implementation of social music is still Last.fm. You can friend me on Last.fm here and check out my artists profile here.
Update: 9/21/2010 Apple was in talks with Facebook for 18 months in trying to come to terms with a more elegant solution, Ping as a Facebook app, perhaps. But they could not come to an agreement, probably because Facebook was asking for too much, aka the "onerous terms" mentioned by Jobs.

Do you need a web developer for a Drupal or WordPress project? A marketing strategist to manage your social media profiles, search ads, or SEO? Contact me here.