There is some talk of Fair Use reform to define it as: "work that adds to the value of the original, as opposed to substituting for the original, is fair use."
So, what are some examples of adding value? Let's just throw some assumptions out there.
• Free redistribution against the author's will, aka "piracy": this is not even covered by Fair Use. It it can ad value, to the original work, but this thinking is at odd with most works' authors in todays' IP-sacred climate. It serves the undershot
customers of works.
• Derivative Works: depending on the nature of the use, it could add value.
• Parody: Parody is the use of a work to comment on something else. This is usually protected under fair use, but does not necessary add value to the work.
Value flows in two directions between these 4 entities:
• Original Works' Authors
• Original Works
• Derivative Works' (licensed or unauthorized) Authors
• Derivative Works (licensed or unauthorized)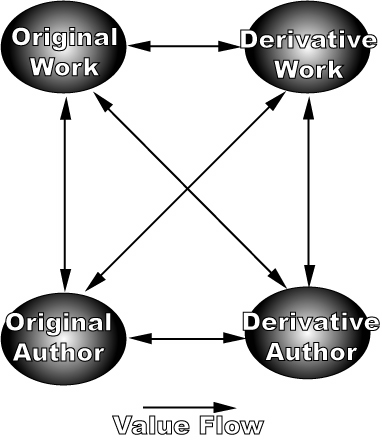 The problem arises when one profits form another and that is viewed as unfair. And fairness as seen in a reproducible psychological experiment called the ultimatum game, the need for fairness and entitlement makes for illogical business decisions.
Original Authors Add Value to their Original Works and vice versa
This example is pretty simple. The author creates the work, the work has value. If the work becomes popular, it is attributed back to the author. If the work is bad, the author's value may decrease. If the author is obscure, it may not matter. Steven King's great books helped to make him valuable in the book publishing market. And when he releases a new book, people take notice.
Original Authors and their Original Works Add Value to Derivative Authors and their Derivative Works' and vice versa
The originator's work can create a value network for his or her works, and the works of others. Suzann Vega's song "Tom's Diner" was originally an acapella. It was then remixed without permission by DNA Disciples, adding cache to Susan Vega as an artist. Conversely, when someone crates a new art form (such as the remix), others benefit by being successful in that art form. In other words, the network effects of the many can raise the status of a few.
Mashup artist Girl Talk samples as many as 20 songs into a single 3-minute song. These mashups may remind people of the original authors who are valued because of the original works, and they may wish to listen to or even purchase the originals. Girl Talk's innovative approached helped to spotlight himself and his "illegal art" (since no licensing was obtained and is therefore only available for free via p2p networks).
Derivative Authors Add Value to their Derivative Works, and vice versa
This is the situation that Original authors view as unfair, and causes all kinds of conflicts. In order to exercises this option, it must be:
• created illegally, by using works that are copy written and without getting permission
• created by obtaining permission and licensing in an "any use is commercial use" assumption
• created by using works that are in the public domain
• created using works in a way in which its Creative Commons license permits.
There is a great experiment going on by Trent Reznor of Nine Inch Nails. He as started the Nine Inch Nails Remix community where fans can download multi track versions of songs, create a remix, and then upload the remixes for fans to listen to and download. Most of the tracks from the last album are available as multiple tracks from the site, but some are available on the recently released remix album. So, eager remixers must buy this album to get access to remixing some of these other tracks. The community can rate and aggregate mixes, spotlighting the best remixes, each who has their own profile, similar to a social networking site.
Derivative Authors and their Derivative Works Add Value to Original Works
No matter which one of the scenarios listed above is in play, this type of value creation may occur. Famous original paintings are worth as much as they are partly because of reprints and photographs that pay homage to them. Even within the range of a single artist, some paintings are worth more than others not only because they are higher quality or more esthetically pleasing, but because these traits are a reason for their reproductions, and because people see the reproductions, the value of the original increases. This was especially the case prior to copyright regimes. This lead to the spread of the bible and helped to spur the print industry at the time of the invention of the printing press.

Do you need a web developer for a Drupal or WordPress project? A marketing strategist to manage your social media profiles, search ads, or SEO? Contact me here.
Technorati Tags:
fair use
,
piracy
,
Derivative Works
,
value network
,
network effects
,
Creative Commons