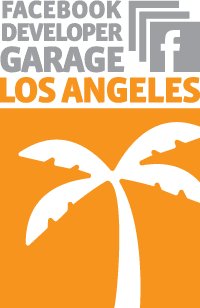 On July 28th Kareem Mayan hosted and organized LA's first FaceBook Developers Garage at Mahlo's HQ in Santa Monica, Ca., courtesy of JC. About 50 developers, hackers, strategist, marketers, and entrepreneurs attended. The event is part of FaceBook's app developer meetup strategy. They plan to organize meeting in several other cities such as New York, Boston, Los Angeles, Seattle, London, Chicago and San Diego. It was a BarCamp style event where people could give presentation, and sponsors provided free soda, snacks, beer keg, and pizza.
FaceBook's own developer evangelist Meagan Marks came down from Palo Alto to open the day's event by giving a general presentation on the F8 platform. She gave an overview of the platform by talking about the growth rate of the most popular and fastest growing applications such as TopFriends, Happy Hour, SuperWall, and iLike. Megan's presentation was great, and many wanted to have access to the ppt, but she said she could not release some of the data. In discussing this later with some of the attendees, this seemed like a strange answer since some of this data (such as most popular, fastest installation rate, etc) is tracked and available in the Appsaholic app (created by SocialMedia.com, more on them later) . But I am sure there was a good reason. She will probably make it available eventually.
A FaceBook app is accessed through the FaceBook site but must be hosted on a developer's own server. Calls are made from the F8 platform to the app through an API. A developer can make their app in whatever web framework he or she is familiar with such as Java, .Net, Ruby on Rails, PHP, Python, Perl, etc. If your app gets really popular, you will need to have access to more servers in a very short amount of time.
FaceBook App as a User Acquisition Strategy
New startups are emerging to do nothing but create FaceBook apps for clients. Existing web design firms and ad agencies will also have custom apps as their new offerings. But, what may be getting the most attention in the larger web 2.0 space is number of existing web properties that are getting into the FaceBook app space to help leverage their sites' core offerings. One example was an app by Renkoo.com (a web 2.0 style Evite.com) called BoozeMail. It allows you to "send a drink" (a picture of one of many drinks along with a message) to a friend. Interestingly, the Booze Mail is hosted on Amazon's EC2 platform. The idea is to get users to use Renokoo to organize a real-life get-together with your friends to go drinking, and then ideally for other social gatherings. Another example is my acquaintance Otis's social network around books, Goodreads.com. It exists as a separate site entirely, but has its own FaceBook app which simply shares data between both versions of the app. You can either add the app as a non-existing GoodReads.com user (in which case it creates you as such), or you can tie in your existing GoodReads.com account into the FaceBook version of the app.
Another strategy is paid cross promotion of apps. If you have a successful app, you can charge other app developers to feature a link for their app on the popular app's "canvas page" (landing page for a FaceBook app). Two app developers could also partner up and promote each other's app with no money changing hands.
Three key FaceBook App Ingredients
The main idea here is to make an app that is viral, engaging, and useful.
-Viral in that you, as a developer, try to entice your user's friends to add the app. Some apps are invite only as part of the nature of the app. Other allows users to invite their friends. The strategy is to use copy such as "see if your friend's movie taste is compatible," or "share your (whatever) with your friend" and NOT something like "install the (name of app) app" which does not entice or tell about any benefits.
-Engaging in that the apps are fun to use because they help create meaningful interactions with real friends. With web based games of the past, for example, you were not always playing with your friends (with the exception of the games built into AIM or YIM). Now, with the open F8 platform, you could play games with friends asynchronously where you could not in a chat client based game, and anyone with the programming chops can make the games/apps.
-Useful in that it adds some sort of social functionality to your life. These types of apps are ones that users are going to have installed long term. The Zombie game might be fun at first and interesting as a proof-of-concept viral app, but something like a social calendar or movie recommendation based on friends' taste is a little more useful.
FaceBook apps feature a way to link Google Analytics account so developers can track the app's traffic. FaceBook will be building in the ability to find out what links are being used to acquire new users to your app.
FaceBook may charge developers sometime in the future, especially if and app is using a lot of FaceBook's own resources. But the FaceBook team would rather contact the developer and help the developer try to figure out how to better optimize the developer's code before they would charge or disable the app altogether.
Deep Meta Access
Remember when MySpace reached its tipping point, many users were afraid that MySapce would take advantage of everything MySpace knew about a user and then do something like send highly targeted ads to that user's profile? Well, they never did it. But, this capability is now in the hands of any FaceBook app developer who has users. The users data that is available for use in apps is similar to the data you can see on a friend's profile. All of this basic info is necessary to allow app to do interesting things.
Paid Surveys
Did you know that you can create targeted polls by gender, age, location, and/or interest, and get the results for $0.25 each? This is great for any type of marketing research, including: "What app should I make and what features should it have?"
Design Strategy
It seems like the type of design strategy that the 37Signals blog likes to talks about is going to be studied and valued with even more rigor (similar to the way SEO right now), especially with the proliferation of FaceBook apps. Should the app send a notification or an e-mail? What to include and not include in the mini-feed? What is annoying and what is useful info? These are all questions you need to ask yourself when developing an app. Most developers might figure it out as they go along. Some developers clone their app and tweak some things such as the app name, the copy (description of the app on the canvas page), or the order of the pages they present to the user during or after the install to figure out which one has quicker user uptake. Create the right "click bait" to increase user uptake.
The Dark Side of App Design Strategy
The power of the social network app strategy also has a dark side. Tap into people's egos. An app's copy in the mini feed can read "Joe knows more than you about X. Do you think you know more? Take this quiz." The link to the quiz installs the app. Apps can rank friends against each other in the silliest and stupidest of contests, and the drive to try and beat one's friends emerges. An app can display a badge of rank on a user's profile or points acquired.
Emerging Ad Networks
The FaceBook app platform is creating an entire cottage industry of FaceBook app ad networks. Userplane.com is one such ad network. They are a Flash based chat and presence platform which has an API that is free to tap into. Some independent developers have used Userplane's platform to create a FaceBook app called Chizzat. Chizzat serves ads from Userplane's inventory or any other ad network's inventory. However, if a developer just wanted to use Userplane's chat API, Userplane's does not require that developer to send a cut of revenue acquired by any other means to Userplane! But, they make it really easy for a developer's application such as Chizzat to become a Userplane ad publisher. AOL acquired Userplane last year. They have such a large ad inventory that they do not even require you (as a publisher) to use the chat platform to have them as an ad customer. Userplane is a little different than the other ad platform since they can charge for the time the user spends on the screen rather on a CPM basis. There are Flash-based game apps in FaceBooks such Texas Hold'em where the user will stay on one screen for hours at a time. They can also cycle through banner ads. SocialMedia.com is another ad network. They created the Appsaholic app as a way to track app stats so they can better target, price, and understand the ads they serve on apps. Another FaceBook ad network is Lookery.com (which is the new project of Eric Scott from MyBlogLog). Lastly, FaceBook has its own ad platform called FBexchange. The amazing thing is that FaceBook does not require a cut of the ad profit you might make as a 3rd party ad network or publisher(not at this time, anyway)!
The FaceBook Application Platform makes the idea of the entire internet and web apps new again. This time, just add the power of identity and the social network to any and all ideas that have been tried (that succeeded or failed) in the past. The meetup was very informative and fun. We all made some great contacts and had some great conversations about the FaceBook platform. And of course, friended each other on FaceBook to keep these conversations flowing. Thanks to Kareem, Megan, Jason, Amit, and the anonymous sponsors. The FaceBook platform is a big deal. There are so many opportunities out there, it's not even funny.
Update:
Pete Mauro's ppt from his presentation on marketing FaceBook apps and other related resources.
Update:
Two similar posts with some great tips.
Jeramiah Owyang: What the web strategits should know about Facebook
Dave McClure: Seven Steps to graphing your Facebook strategy

Do you need a web developer for a Drupal or WordPress project? A marketing strategist to manage your social media profiles, search ads, or SEO? Contact me here.