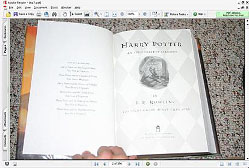 Torrent Freak reports that the book is available for download on BitTorrent. Yet, Amazon reports 2 million have been pre-ordered. This just goes to show that there is real value in hard copies of media (music, movies, books, and all other media content) for true fans, and that strengthens that argument that downloads are not lost sales.
Update 7/18/07
TechDirt says the same, but better.

Do you need a web developer for a Drupal or WordPress project? A marketing strategist to manage your social media profiles, search ads, or SEO? Contact me here.
Technorati Tags:
BitTorrent
,
Amazon
,
media
,
fans