Via TechMeme, the New York Times is rehashing Apple's DRM now that the iPhone has been announced. They quote Apple's lawyers in Melanie Tucker v. Apple Computer Inc, where Mrs. Tucker complained that she could not buy music online from any other service such as Microsoft. Part of the defense was,
"Without D.R.M., legal online music stores would not exist."
First of all, illegal online sharing system like Napster helped to prove that there was a demand for music music files, and a business could be built from it. Secondly, Emusic, an online music store that sells unrestricted MP3s exists. The NYT article goes on to say that as the major labels lean more towards DRM free music files in MP3 format, Apple's FairPlay DRM will only server to lock customers in to iPods+iTunes Store.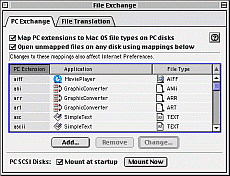 What happened to the Apple i used to know? Back in the early 90s, Apple introduced what at the time was called SuperDrive and PC Exchange which software which allowed DOS/Windows floppies discs to read/write on a Mac and convert files from PC format to Mac format. They understood lock-down at that time would be bad, becuase they had only around 5% of the market. Perhaps it did not matter becuase the files in question were created by the users, and not purchase from Apple. Microsoft has never had an interest in building a Mac file system reader into Windows. But with the iPod having 70% of the MP3 player market, they can afford to be the bully. For all of the perceived good will and praise of design Apple gets from its loyal customers, it is interesting to see that they are just like any other corporation. Apple only give customers what they want when it is in Apple's interest. This will always be the problem with public companies. Even though it went public 20 something years ago, Apple has finally sold its soul.

Do you need a web developer for a Drupal or WordPress project? A marketing strategist to manage your social media profiles, search ads, or SEO? Contact me here.