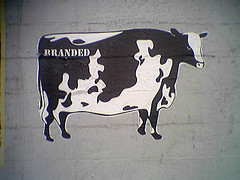 Jeremiah says that right now, customers own and define the brand using social media, user generated content, etc, and not the companies that are the brand. The key for a company to have more control over it's brand would be to use aikido; to take negative feedback about the brand and use it in a positive way.
Listening to your customers and adding features and the like is one way to do this. But a company can use the information they gather from user gen to go to where the customer may want them to go. Why can't Starbucks start a non-profit organization or make efforts to insure that the growers are getting a fair price for the coffee? This could be one strategy they could use if their PR were to get bad enough.
Has Chevy done anything in response from the public that some people think SUVs are obnoxious, and are bad for the environment after their experiment with user generated content? I guess you can say if gets worse, they would have to. Can they use this data to benefit the brand or will they continue to just be embarrassed about it and keep their branding black-eye? They did use the opportunity to say they are working on a hydrogen car and their customers' opinions matter and nobody elses' does on their blog.
These both play into corporate governance and transparency. Consumer generated content might make the world a better place, someday. But for now, it is an info war between social-media-empowered people who care and the companies that don't.

Do you need a web developer for a Drupal or WordPress project? A marketing strategist to manage your social media profiles, search ads, or SEO? Contact me here.
Technorati Tags:
social media
,
user generated content
,
corporate governance
,
transparency