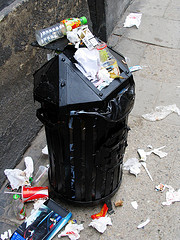 Jackie Huba wrote about a new "service" PRWeb is going to launch where they will play bloggers to write about a product or service. Her headline is "Evangelists work for free" (I like that). Coincedently, there is another "services" just announced by MindComet called PayperPost (no link-juice love for them). This is blog payola.
Commetns by Jeremiah Owyang, Marshall Kirkpatrick, Jason Calacanis, Shel Israel.
I think it is going to be pretty easy to use the already existing tools of the blogosphere (Blogger.com's flag feature to tag splogs, Technorati has some sort of feature also).
Here is why it will fail. Part of blogging is about personal branding. Bloggers get Technorati juice when the they write real, meaningful content. So anyone who is going to try and use these "services" are going to come from nowhere, they have no credibility, so they will be irrelevant. They can try to pollute and game Technorati and Sphere, but I think these companies are smart, and will, with the help of the blogosphere, tag them as splogs.
No A-listers (the only people who might be able to make some real money from this) are going to use these services because then, their authenticity and credibility will be shot when we eventually and delete our links to them and unsubscribe them from our feed readers .
Here is another reason it will fail. Sooner or later, we will find out who the clients of these companies are, and then we can all point and scowl, and that is bad PR for that company. Bloggers will boycott their product or service.
It is so easy and inexpensive to put a personal face on your company, it just amazes me that a client would do this. The irony is the same medium they are trying to game will ruin them. It is playing with fire. It is like bad (intentionally deceptive) character blogs all over again. I can just imagine some clueless ad executive telling someone in passing who happens to be a blogger "yeah, we are using this new service, PayPerPost." BAM! You're dead.

Do you need a web developer for a Drupal or WordPress project? A marketing strategist to manage your social media profiles, search ads, or SEO? Contact me here.
Technorati Tags:
MindComet
,
payola
,
splogs
,
PayPerPost