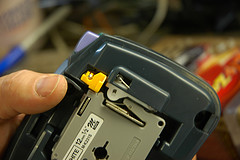 There is a debate about what to call content made by someone other than the traditional content creators. There are the labels "user generated content" and "citizen media," and a couple others. Blogs, wikis, podcasts, and viral videos on YouTube or Google Video are easy for almost anyone to make and distribute. Let's think about the three types and the motivations behind each.
· Companies
The most important distinction between a Company and the two labels below is that the Company Created Content is usually faceless or has little personal branding attached to it. Companies will create content because it is in the commercial interest of the company. But, if it adds value to the customers' experience, this a good thing. If the company places commercial interest above customers experience, they will have problems. I think this is a basic journalistsic principle, is it not? The two must meet in the middle to be relevant to the People. Companies in traditional media put commercial interest (because they make money with advertising) above customer experience (the right for the people to know). They also avoid certain political issues because of the way industry lobbying and political corruption works. Both are flawed and impure. However, the New York Times is to be commended on breaking the story about the tracking of bank transactions, a bold and unusual move, no doubt, inspired by the "the people's right now know" spirit of the blogosphere.
· People
People will create content because they want to evangelize, warn, make people laugh, tell their friends about goings on, or get internet cred. They may also want to report stories that mainstream media Companies referenced above will avoid for political or commercial reasons. Lastly, they might do it for commercial interest (personal branding). You have heard that people say money matters the most when they hate their job, but that say it matters least (or not first) when they like their job, right? This tells you a lot about the motivation behind why a Person creates content.
· Mavens/Evangelists
These are A-list bloggers, thought leaders, edgy corprate bloggers. They create content for a combination of these reasons listed above. They are a cross between a Company and a Person because they may be using their personal brand to represent a company, but at the same time, they do not apply the filters that the company might put on them. They can get in trouble, but it is worth the risk/reward.
So both a person and a maven/evangelists are users (of computers), so throw out "user". A person and a company are opposites. So my proposal is: Company Created Content, People/Person Created Content, and Mavens/Evangelists Created Content.

Do you need a web developer for a Drupal or WordPress project? A marketing strategist to manage your social media profiles, search ads, or SEO? Contact me here.
Technorati Tags:
user generated content
,
citizen media
,
personal brand