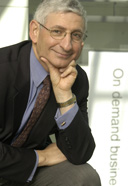 Via the Emergence Marketing blog, there is a great post by Irving Wladawsky-Berger of IBM on how great customer service will make or break a company thanks to the "word of mouth on steroids" that blogging and social media provide. It is great to see there is someone this high in a company that gets it. Link:
The Critical Importance of Customer Service

Do you need a web developer for a Drupal or WordPress project? A marketing strategist to manage your social media profiles, search ads, or SEO? Contact me here.
Technorati Tags:
customer service
,
social media