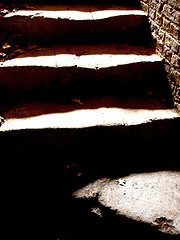 This is the most basic way to boil down new marketing and corporate blogging. The idea for this post came to me while listening to the latest episode of the Across The Sound podcast at about 20:13 to 23:49. These ideas are a culmination of all the books and blogs that I have read and podcasts that I have listened to for the past year, in particular Joseph Jaffe, Malcolm Gladwell, Jason Fried, and Doc Searls et al.
1. Make a great product or service. If it is not great, keep working on it. If you want to use advertising to make up for a crappy product or service, you product or service is not good enough.
2. Go out to Malcolm Gladwell's (The Tipping Point) mavens aka Jackie Huba's customer evangelists and listen to what they say. Help them get great use out of the product or service. Use a blog (or podcast, social media, or wiki) to talk to them, and use all of the tips in Cluetrain (The Cluetrain Manifesto) and Naked Conversations. This costs almost nothing, especially in comparison to traditional advertising.
3. The mavens will (and you will let them) use the tools of new media to tell other people about the product or service: blogs, RSS, podcasts, wikis, viral videos, social media and IM, because anyone can do it and it costs almost nothing. The mavens are doing it already whether you (as a company) pay attention or not, and it they do it because they want to (think about that). And hopefully it will tip. If you blog, they will want to do this even more, because they see that you "get it". Word of mouth is the only relevant form of marketing left today because everything else is filtered out as irrelevant noise.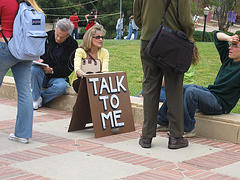 4. When the customers talks back, listen to them and show that you are listening (don't outsource CRM), and use the useful information they provide for the next product or service development cycle. These are also your new round of mavens. If you skip this part of listening, you are doomed because your effort will seem half-hearted and customers will want to punish you by going with a competitor to despite you even if the competitor is no using new marketing, and the blogosphere will make point you out and you will be finished. They will make fun of you and be really mean, but really, they want to see you get it right. They will offer suggestions on your way to interact when them next time around if you fail this last step.
Yes, these are the easy steps of new marketing. The hard part (step 0) is convincing the decisions makers who need to defend what they have done for the past 20 years using traditional means. Maybe the decision makers have become friends with people in industries that provide these traditional advertising services, or believing that you need to rely on a specialist. You are the specialist in that you are the one who can speak for the company because you are in the company. You shape the customer culture both with your products/services and with your real, public voice.
If you are a startup, you will have an easy time using these tips. There are plenty of shining examples of startups using these, because they do not have the bureaucratic roadblocks. In fact, there is probably not one web 2.0 startup that is not marketing this way, simply because marketing this way the part of the web 2.0 meme.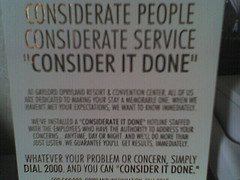 I have a special interest in this topic as it applies to my current position in customer service and product support. In the era of user experience, all of these points make so much sense to me.
UPDATE 7/27/06
David Armono at Logic+Emotion has an similar point on how there is a cycle between traditional PR and new media that works in a similar way.
Steps photo by Auntie P.
Talk to me photo by misterjt.
Customer service photo by The Shifted Librarian.
Photos use licenced under CC.

Do you need a web developer for a Drupal or WordPress project? A marketing strategist to manage your social media profiles, search ads, or SEO? Contact me here.
Technorati Tags:
corporate blogging
,
Malcolm Gladwell
,
The Tipping Point
,
Jackie Huba
,
customer evangelists
,
The Cluetrain Manifesto
,
Naked Conversations
,
advertising
,
blogs
,
RSS
,
podcasts
,
social media
,
new marketing
,
product support
,
user experience