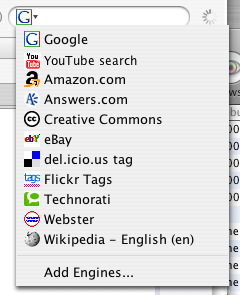 How about someone making a YouTube search add-on for Firefox?
Apparently, YouTube has more than 50% of the video search market, so this only makes sense.
UPDATE 6/11/2006
Spoke too soon.
Add You Tube Search to Firefox.

Do you need a web developer for a Drupal or WordPress project? A marketing strategist to manage your social media profiles, search ads, or SEO? Contact me here.
Technorati Tags:
YouTube
,
Firefox